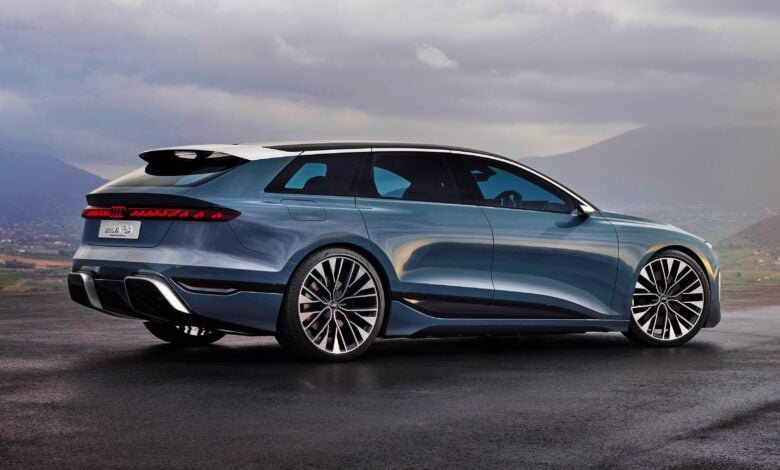 2023 audi rs 6 avant
The Audi RS6 Avant Gasoline V8 4.0 Bi-Turbo with 600 HP is preparing for its launch on May 21!
Audi Thailand officially entered the RS family of performance cars in Thailand in 2020. The fun exploded at the same time , as many as 3 models opened in July 2020, starting with the Audi TT RS, priced at 5,299,000 baht with a 5-cylinder petrol engine 2.5 turbo. 400hp engine, followed by the RS 4 Avant, a good servant car. An impressive opening price of 5,899,000 baht, the V6 2.9 biturbo with 450hp peaking with the RS Q8 Flagship SUV, with the opening price at 10,899,000bt with the V8 4.0 biturbo with 600hp.
With the opening of 2021, Audi Thailand continues to launch two more models of the RS family, the RS5 Coupe and RS e-tron GT, 100% electric cars, which have already been launched.
RS Q3 Sportback

   4,750,000 baht

5-cylinder petrol, 2.5 turbo, 400 hp

TT RS

   5,299,000 baht

5-cylinder petrol, 2.5 turbo, 400 hp

RS4 Avant

   5,899,000 baht

Petrol V6 2.9 Turbo 450 HP

RS Q8

   10,899,000 baht

Petrol V8 4.0 Turbo 600 HP

RS5 Coupe '

   5,990,000 baht

Petrol V6 2.9 Turbo 450 HP

RS e-tron GT

   9,490,000 baht

Dual electric motors 646 hp 830 Nm
Recently , Audi Thailand is preparing to launch the seventh generation of the RS family in Thailand, namely "Audi RS6 Avant", a butler car. which holds up to 600 HP
engine
audi rs
TFSI V8 Direct Injection petrol engine, 4.0L, 3996cc. Twin Turbo Trailer, Cylinder x Stroke: 86.0 x 86.0 mm, Compression Ratio: 9.7:1, Max Power 600 HP @ 6,000 RPM, Max Torque 800 Nm @ 2,200 – 4,500 RPM, Coupled with Mild Hybrid System 48V mated to a quattro four-speed Tiptronic automatic transmission.
The dimension
The length is 4,995 mm.

Width 1951 mm.

Height 1487 mm.

The wheelbase is 2930 mm.

Luggage storage in the back, volume 565 – 1,680 liters
The Audi RS6 is a high-performance sports car produced by the German company Audi . The RS6 was first launched in 2002 and has been continuously updated since then.
The RS6 features a 4.0-liter turbocharged V8 engine that produces 591 horsepower and 800 Nm of torque. It comes with an eight-speed automatic transmission and an all-wheel drive system that allows it to accelerate from 0 to 100 km/h in just 3.6 seconds.
The RS6 is engineered to deliver high performance and driving comfort. The car has tech features such as an advanced MMI infotainment system, a dedicated digital driver display, navigation, and high-quality audio.
The RS6 is equipped with variable height air suspension and integrated steering to provide a comfortable and stable driving experience. The car also comes with carbon ceramic brakes to provide powerful stopping power and braking control.
All in all, the Audi RS6 is a great performance car that possesses attractive design and excellent performance. It is suitable for people who want to have a luxury SUV but give them a high level of sporty performance