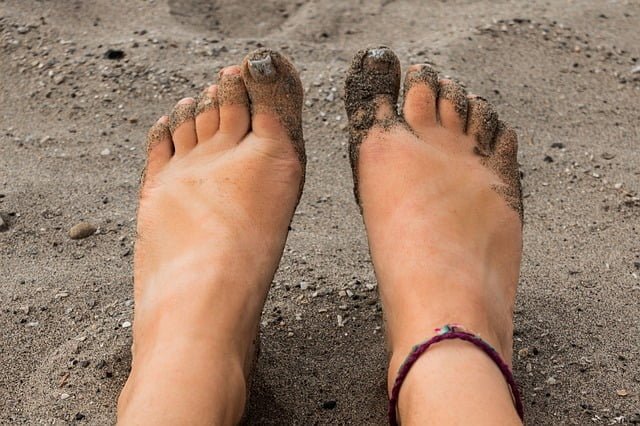 Uncategorized
The most effective and easy way to remove tan from legs, feet and hands
The most effective and easy way to remove tan from legs, feet and hands
Summer dries up not only your body but your skin as well. It absorbs moisture from your skin making it look dull and dry. Your skin gets tanned in the sun because it emits UVA rays that can reach the lower layers of your skin's surface to cause damage. As a natural response to the sun's harmful rays, your skin produces melanin  .
Melanin is a brown pigment that deepens your skin tone. Tanning not only affects your skin tone, but it can also put it at risk of premature aging, pigmentation, and skin cancer.
To deal with tanning of hands, feet and legs, people usually use harsh methods such as bleaching but it can be more harmful as it causes more darkening and drying. However, there are safer ways to restore the health of your skin after tanning such as home remedies and Ayurvedic products.
Home Remedies to Remove Tan Fast
Home remedies should be the first way for you to deal with most skin related problems as they reduce the risks and side effects. You can safely make homemade masks a part of your daily skincare routine. Hence, we have put together a list of readily available kitchen ingredients that will relax the skin on your legs, feet and hands while the tanning process is going on.
Yogurt, lemon juice and flour mask
Yogurt works as a skin moisturizer and lemon juice with gram flour works to lighten the skin. Make a paste of these three ingredients and apply it gently on your legs, feet, and hands. Leave it on for 30-35 minutes and then wash it off with lukewarm water. Repeat this process twice a week.
Lemon and sugar can help you remove a stubborn tan from your hands, feet, and legs. Lemon helps reduce melanin and sugar exfoliates your skin to reveal healthier skin. Make a mixture of granulated sugar and lemon juice. Scrub your feet, hands and legs with it for 10-15 minutes. Be gentle on the affected areas. Then wash it with cold water.
Apply a steam distilled rose water mist after cleaning the areas as it will soothe the skin. Do this every day until the tan is completely removed.
Potatoes act as a skin bleaching agent while lemon removes spots and tanning from the body. The formula is ideal if you are looking to restore your natural skin tone. Make a paste of potatoes and lemon juice. Put it on your legs, hands and feet. Leave it on for 15-20 minutes and then wash it off with cold water. Repeat the process at least twice a week for best results.
Orange, sandalwood and milk cream
The vitamin C in orange helps detoxify and brighten the complexion while sandalwood soothes sunburns and cools the skin. The milk cream in the mask moisturizes your skin. So make a paste of these 3 super ingredients and apply it on the affected areas. Keep it for 30-35 minutes and then wash it off with cold water. Repeat this process twice a week.
A product that protects your skin from tanning in the first place instead of home remedies, go ahead and introduce the power of Ayurveda
How to remove tan from legs?
It's easiest to keep your face pampered and moisturized, but we often skip other areas of the body while exfoliating and moisturizing. During the winter, our legs are mostly covered, however, in the summer, UV rays seem to find their way through the skin due to summer clothing. If your legs are suntan, make sure to use home remedies immediately after tanning in order to achieve results faster, without much damage and side effects. Be careful not to miss any exposed areas. You may not need to use the treatments as often as you would on your face but it is still recommended to use it twice a week.
How to remove tan from feet?
When using these home remedies for your feet, remember not to miss the lone area. The thickness of the sole of the skin is different from the rest of the body, but it is likely to release a lot of dirt when detoxifying it. In fact, if you repeat the process enough times, you will likely succeed in restoring your smooth and supple skin.
How to remove tan from hands?
Don't be harsh with the skin on your hands, especially when they're tanned. Tanning makes your skin more sensitive and damaged, so be sure to pamper your skin well. Be easy on her while applying ingredients and masks. Use your ingredients wisely, nothing can irritate the skin and cause more skin cells to heat up.
How to prevent tan on the legs, feet and hands?
The easiest way to protect the skin of your legs, feet, and hands from sun damage is to completely avoid direct sunlight. The sun's rays are irritating to your skin and in this case prevention is much better than cure. So avoid exposure to heat during the noon hours. If you have to go outside, make sure your legs, feet and arms are not exposed to direct sunlight. Wear gloves, socks, shoes, full pants, and full-sleeved clothing.
After covering yourself as much as possible, apply sunscreen with a high sun protection factor to the exposed areas, and reapply after two hours. Sunscreen is designed to reduce skin damage caused by UV rays. Prevents wrinkles, hyperpigmentation and stops premature aging of the skin.
Additionally, drink enough water if you plan to go out in the sun. This will protect your skin from drying out in the sun.